I don't know about you, but I still remember shoveling out my car a hundred times last winter to try and cross the barren waste that the city had become, and that's why I intend to get everything out of fall before that happens again. The weather is starting to turn, but that doesn't mean there aren't plenty of fun things to do before the weather gets too cold. Winter is coming! Get out while you still can!
Kayaking and Canoeing on the Charles River

Doesn't matter if you own a Canoe or Kayak, or need to rent one from Charles River Canoe and Kayak center, the Charles offers a great place to get on the water and paddle. Find more information here
2. Gold star pool
The only city-owned outdoor pool in Cambridge, located on Berkshire and Cambridge streets. This pool has a depth range of 2.5ft-9ft and admission is only $0.75 per person. Remember to bring your own lounge chair, drinks and snacks for optimal summer fun! For more information look here
Recreation Sundays on Memorial Drive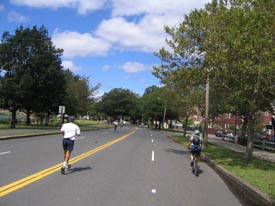 Every Sunday until the 2nd Sunday in November, Memorial Drive is closed to traffic between Western Ave and Mount Auburn Street and open to skating, biking, and just general walking. Take advantage of the view of the Charles that's usually blocked by this busy road! For hours and specifics look here
Boston by Foot (and by Little Feet) Tours
Until October, Boston by Foot does regular walking tours that highlight Boston's rich heritage in architecture and history. The tours are 90 minutes long and cost $12. That sound too long for your child to handle? There's also the Boston by Little Feet tour program, which is a 60 minute tour for children ages 6-12 and costs $8. A good way to absorb Boston and get a feel for walking around the city. More information on specific tours can be found at http://www.bostonbyfoot.org/
Boston DUCK Tours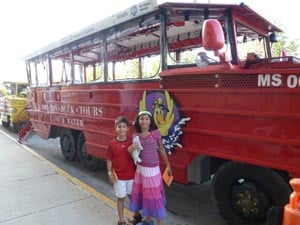 You can head over to the Prudential Center, the Museum of Science, or the New England Aquarium for a DUCK tour! These tours are given on World War II amphibious landing vehicles that have been given a friendly makeover. These 80 minute tours are narrated by expert guides who really know Boston. The guide will drive you around Boston until using its amphibious capabilities to take to the water and give you a breathtaking view on the Charles. On top of that, you might even get the chance to drive the DUCK! For specific times and locations look here
Boston Harbor Whale Watching
Boston Harbor Cruises offers three hour whale watch cruises on high speed catamaran vessels. Three outside decks offer a great chance to catch sight of the whales, and a climate controlled interior cabin provides cushy seats for luxury between sightings. Every BHC whale watch is narrated by a naturalist from the Whale Center in New England. This one is a little expensive at roughly $50 per person, but they will refund your ticket if you don't see a whale on your watch. For times look here
Take a trip to the Boston Public Garden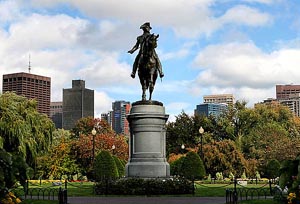 Close by to the Common is a wonderful botanical park called Boston's Public Garden. Commissioned in 1860 to be built by architect George Meacham the nearly 4 acre large plot of land has enormous trees, historic statues and fountains, and swan boats that visitors can peacefully ride on the middle pond. The Swan boats are pedal powered and are the perfect thing for a leisurely relaxing ride if kayaking on the Charles isn't your style. Information about the park can be found here
Farmer's Markets!
There are tons of ways to eat local around Boston, especially in the Cambridge area, and getting the food while it's still in season is key.
The Cambridge Farmer's market has some information here
Between different farmers markets and food festivals, there are ample opportunities to get healthy, delicious vegetables and fruits. The Cambridge Center farmer's market is a great place to buy locally grown food and help out local businesses, and there are tons of other farmer's markets in the Boston area.